3 Crazy and Funny google tricks
3 Crazy and Funny google tricks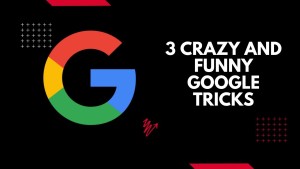 Enter the title for the tutorial
3 Crazy and Funny google tricks
Enter the detailed description of the tutorial
In this video, we will see 3 Crazy and Funny google tricks. Please note the mobile device used in this video is OnePlus Nord with android version 12. You can use these features on any android device, iOS, and Windows device just follow the steps shown in the video like enter cha cha slide and see the browser make cool transitions and for the second one if you have played retro games then you might be aware of Pacman now you can play it without installing the game on your device. please note all these tricks require an internet connection. These are also known as google easter eggs.
Enter the relevant keywords for the tutorial.
Provide the complete url of the video starting with http.
User reviews
There are no user reviews for this listing.