Ambika Kalna Shiv Temple
TM
Tannistha Mukherjee
Updated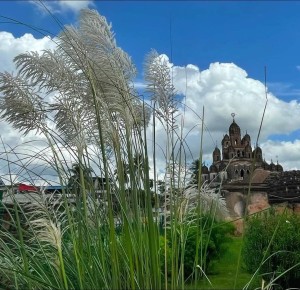 Explain more about the photos or videos like location, time and the specific camera settings you would have used to take these photos. Also, if you would have used any accessories or a smartphone app to take the media you are sharing, you can mention them here.
Ambika Kalna is a town located in the Bardhaman district of the Indian state of West Bengal. It is situated on the western bank of the Bhagirathi river and is known for its historical and cultural significance.

The town is home to numerous temples and landmarks, including the Rajbari complex, which consists of several interconnected temples, palaces, and gardens. The temples in the complex are built in various architectural styles, including the terracotta style, and are adorned with intricate sculptures and carvings. The Rajbari complex is a popular tourist destination and attracts visitors from all over India and beyond.

Apart from the Rajbari complex, Ambika Kalna is also known for its handloom sarees and other textile products. The town has a rich history of textile production and is famous for its unique patterns and designs. Visitors can also explore the local markets and shops to purchase these traditional textiles and other handicrafts.

Overall, Ambika Kalna is a fascinating destination for those interested in history, culture, and architecture. Its temples and landmarks offer a glimpse into the rich cultural heritage of West Bengal, and its handloom sarees and textiles are a testament to the town's skilled artisans and craftsmen.
Enter the keywords that are relevant to the photos or videos that you will upload with this post.
User reviews
There are no user reviews for this listing.