Asian lady beetle
New
ES
Emmanuel Sagini
Updated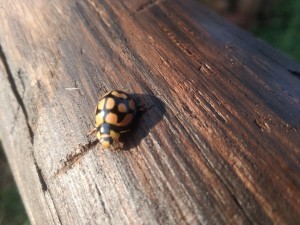 Explain more about the photos or videos like location, time and the specific camera settings you would have used to take these photos. Also, if you would have used any accessories or a smartphone app to take the media you are sharing, you can mention them here.
The harlequin, Asian, or multicolored Asian lady beetle is the most well-known name for the huge lady beetle or ladybug species Harmonia axyridis. This species has one of the broadest ranges of color forms in the entire world, making it one of the most variable species.

It was artificially brought to North America and Europe to control aphids and scale insects despite being native to eastern Asia. It is now widespread, well-known, and common in those areas. It has also taken root in Africa and a large portion of South America.

Due to its frequent home invasions in October as it prepares for the winter, this species is noticeable in North America where it may be locally referred to as the Halloween beetle.
Enter the keywords that are relevant to the photos or videos that you will upload with this post.
User reviews
There are no user reviews for this listing.