Bakkhali Sea Beach
TM
Tannistha Mukherjee
Updated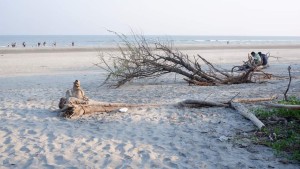 Explain more about the photos or videos like location, time and the specific camera settings you would have used to take these photos. Also, if you would have used any accessories or a smartphone app to take the media you are sharing, you can mention them here.
Bakkhali is a popular beach destination located in the South 24 Parganas district of West Bengal, India. It is situated on one of the many deltaic islands that are spread across the southern part of the state. Bakkhali is known for its long stretches of sandy beaches, calm sea, and scenic beauty. It is a popular weekend getaway for people living in Kolkata and other nearby cities.

The beach at Bakkhali is surrounded by dense forests and mangrove swamps, making it a haven for bird watchers and nature enthusiasts. Visitors can also explore nearby attractions like the Bakkhali Beach Forest Bungalow, Henry Island, and Frasergunj. There are also opportunities for water sports like swimming, boating, and fishing.

Bakkhali is well-connected to Kolkata by road, and there are several buses and taxis available for transportation. The nearest railway station is at Namkhana, which is about 20 kilometers away. The best time to visit Bakkhali is between November and February when the weather is pleasant and the sea is calm.
Enter the keywords that are relevant to the photos or videos that you will upload with this post.
User reviews
There are no user reviews for this listing.