Beautiful experience of chilapata Forest
Beautiful experience of chilapata Forest
TM
Tannistha Mukherjee
Updated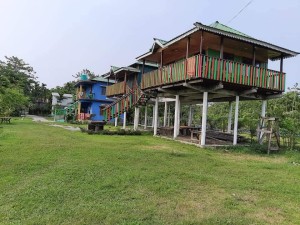 Explain more about the photos or videos like location, time and the specific camera settings you would have used to take these photos. Also, if you would have used any accessories or a smartphone app to take the media you are sharing, you can mention them here.
Chilapata Forest is a forest located in the Alipurduar district of West Bengal, India. It is a part of the Buxa Tiger Reserve, which is a protected area known for its diverse flora and fauna. The Chilapata Forest is home to a wide variety of animals, including tigers, elephants, deer, and numerous species of birds. It is also an important habitat for many endangered species, such as the Indian rhinoceros and the Indian python. The forest is a popular destination for nature enthusiasts and tourists, who come to see the animals and explore the lush vegetation. It is also an important resource for the local community, providing timber, fuel, and other resources.
Enter the keywords that are relevant to the photos or videos that you will upload with this post.
User reviews
There are no user reviews for this listing.