Beautiful view of Chitrakote
Beautiful view of Chitrakote
TM
Tannistha Mukherjee
Updated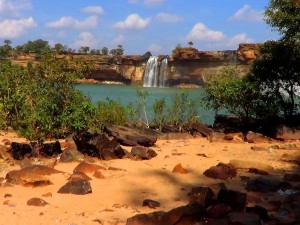 Explain more about the photos or videos like location, time and the specific camera settings you would have used to take these photos. Also, if you would have used any accessories or a smartphone app to take the media you are sharing, you can mention them here.
Chitrakote Falls, also known as the "Niagara Falls of India," is a natural waterfall located in the Bastar district of Chhattisgarh, India. It is the widest waterfall in India and is known for its spectacular beauty, particularly during the monsoon season when the water flow is at its highest. The falls are located on the Indravati River and are surrounded by dense forests, which are home to a variety of flora and fauna.



Chitrakote Falls is a popular tourist destination and attracts visitors from all over the country. The falls are illuminated at night, which adds to their beauty and makes them a popular spot for evening visits. There are several viewing points from which visitors can enjoy the falls, including the main viewing point, which is located at the base of the falls. In addition to sightseeing, visitors can also enjoy activities such as boating, swimming, and trekking in the surrounding area.
Enter the keywords that are relevant to the photos or videos that you will upload with this post.
User reviews
There are no user reviews for this listing.