Betla National Park
TM
Tannistha Mukherjee
Updated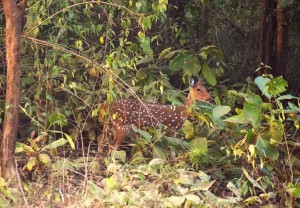 Explain more about the photos or videos like location, time and the specific camera settings you would have used to take these photos. Also, if you would have used any accessories or a smartphone app to take the media you are sharing, you can mention them here.
Betla National Park, also known as Palamu Tiger Reserve, is located in the Latehar and Palamu districts of the Indian state of Jharkhand. It was established in 1989 and covers an area of around 1019.93 square kilometers.

The park is known for its diverse flora and fauna, including a wide variety of trees, shrubs, and grasses, as well as a large number of animal species. Some of the notable animals found in the park include tigers, leopards, elephants, sloth bears, and a variety of deer and antelope species. The park also has a large number of bird species, including the Great Indian Hornbill and the peafowl.

Betla National Park is also home to several ancient temples and historical sites, including the ancient fort of Palamau and the ancient rock paintings of Sita Sindhura. Visitors can also take guided nature walks and elephant rides to explore the park.

It's also an ideal destination for adventure enthusiasts as it provides opportunities for activities like rock climbing, camping, and jungle safari, etc. Due to its rich biodiversity, it is considered as a must-visit place for nature lovers, wildlife enthusiasts and adventure seekers.
Enter the keywords that are relevant to the photos or videos that you will upload with this post.
User reviews
There are no user reviews for this listing.