Bluewitch nightshade shrub
Bluewitch nightshade shrub
New
ES
Emmanuel Sagini
Updated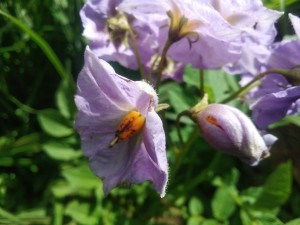 Explain more about the photos or videos like location, time and the specific camera settings you would have used to take these photos. Also, if you would have used any accessories or a smartphone app to take the media you are sharing, you can mention them here.
The nightshade Solanum umbelliferum is often referred to as bluewitch nightshade or bluewitch. In California as well as some areas of Baja California and Arizona, it can be found in chaparral habitat and low-elevation oak forests.

It is a little perennial herb or subshrub that can reach a height of one meter. It has oval-shaped, dark gray-green leaves on hairy green stems. Bluewitch features ruffled flowers that are bright purple or blue with thick yellow anthers in the middle.

Overnight, the flowers seal into spherical buds. It produces tiny, spherical, green fruits that resemble little eggplants when they are ripe and turn purple.
Enter the keywords that are relevant to the photos or videos that you will upload with this post.
User reviews
There are no user reviews for this listing.