Buland Darwaza
New
TM
Tannistha Mukherjee
Updated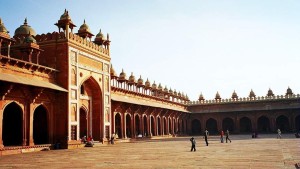 Explain more about the photos or videos like location, time and the specific camera settings you would have used to take these photos. Also, if you would have used any accessories or a smartphone app to take the media you are sharing, you can mention them here.
Buland Darwaza is a historical monument located in Fatehpur Sikri, near Agra, India. It is a massive gateway that was built by Emperor Akbar in the 16th century. The name "Buland Darwaza" translates to "Victorious Gate" in English. The monument was constructed to commemorate Akbar's successful military campaign in Gujarat. It is made of red sandstone and is known for its impressive height and grandeur. Buland Darwaza is a significant example of Mughal architecture and is considered one of the finest gateways in the world.
Enter the keywords that are relevant to the photos or videos that you will upload with this post.
User reviews
There are no user reviews for this listing.