Florence Cathedral Duomo
TM
Tannistha Mukherjee
Updated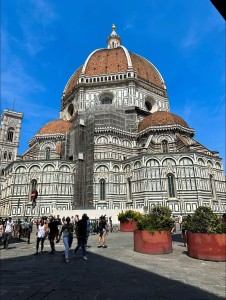 Explain more about the photos or videos like location, time and the specific camera settings you would have used to take these photos. Also, if you would have used any accessories or a smartphone app to take the media you are sharing, you can mention them here.
Florence Cathedral (Italian: Duomo di Firenze), formally the Cathedral of Saint Mary of the Flower (Italian: Cattedrale di Santa Maria del Fiore [katteˈdraːle di ˈsanta maˈriːa del ˈfjoːre]), is the cathedral of Florence, Italy. It was begun in 1296 in the Gothic style to a design of Arnolfo di Cambio and was structurally completed by 1436, with the dome engineered by Filippo Brunelleschi. The exterior of the basilica is faced with polychrome marble panels in various shades of green and pink, bordered by white, and has an elaborate 19th-century Gothic Revival façade by Emilio De Fabris (Wikipedia)
Enter the keywords that are relevant to the photos or videos that you will upload with this post.
User reviews
There are no user reviews for this listing.