Forest Research Institute
Forest Research Institute
TM
Tannistha Mukherjee
Updated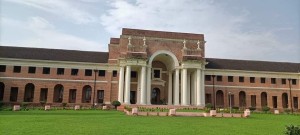 Explain more about the photos or videos like location, time and the specific camera settings you would have used to take these photos. Also, if you would have used any accessories or a smartphone app to take the media you are sharing, you can mention them here.
Forest Research Institute or 'FRI' is an institution in the field of forest research in India. It was founded as India's first forestry school in 1878 by Lt Col Frederick Bailey FRSE FRSGS of the Royal Engineers.The institute is one of the oldest and biggest forest-based training institutes in India. The institute is known for its research work and wonderful architecture that dates to British Raj. FRI is affiliated to the Forest Research Institute University and is approved by the University Grants Commission (UGC). The aim of the institution is to accomplish the needs of the Indo-Gangetic plains of Punjab, Haryana, Chandigarh, Delhi, and western Uttar Pradesh, as well as the Uttarakhand Himalayas.
Enter the keywords that are relevant to the photos or videos that you will upload with this post.
User reviews
There are no user reviews for this listing.