Gaumukh
TM
Tannistha Mukherjee
Updated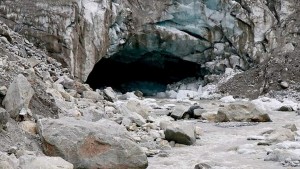 Explain more about the photos or videos like location, time and the specific camera settings you would have used to take these photos. Also, if you would have used any accessories or a smartphone app to take the media you are sharing, you can mention them here.
The river Ganga originates from the Gangotri glacier at Gaumukh, 15 kilometers from Gangotri. The river here is known as Bhagirathi. Only after merging with river Alakananda at Devprayag does, it takes the name of Ganga.

Gaumukh can be reached only on foot by a 15 kilometers trek starting at Gangotri. En route is the Pandava Gufa - a cave located 1.5 km from Gangotri. It is believed that the Pandavas meditated and rested here on their way to Kailash.

The trek follows the course of river Bhagirathi, through thick cedar and pine forests. It eventually embarks upon a beautiful alpine meadow that is dotted and patched with several wild and colourful orchids till Chirbasa.

Beyond Chirbasa the terrain becomes desolate and barren. However, the Gangotri group of peaks, Jogin peak and stretch of Himalayan range that forms a silver cascade makes the entire strenuous trek to Bhojvasa, a walk to paradise.

From Bhojbasa, the trail continues to ascend towards Gaumukh through rocky terrain and one needs to cross huge boulders on the way. On the far side of the glacier one can view the impressive backdrop comprising the peaks of Bhagirathi I, II and III at 6454 metres.

Gaumukh is a snout of the Gangotri Glacier at an elevation of 4020 metres. With an estimated volume of 27 cubic kilometers, the glacier is one of its kind and largest in the Himalayas. The shape of the snout looks like a mouth of the cow which is the reason for its name which literally means "mouth of the cow". The site is considered holy and sages from different corners of India make their way to Gaumukh to attain enlightenment.
Enter the keywords that are relevant to the photos or videos that you will upload with this post.
User reviews
There are no user reviews for this listing.