Gorkhey Valley
TM
Tannistha Mukherjee
Updated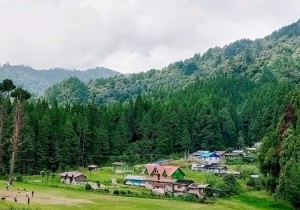 Explain more about the photos or videos like location, time and the specific camera settings you would have used to take these photos. Also, if you would have used any accessories or a smartphone app to take the media you are sharing, you can mention them here.
Gorkhey Valley is a scenic valley located in the Darjeeling district of the Indian state of West Bengal. The valley is situated in the lower Himalayas and is part of the Singalila National Park. Gorkhey is a small village in the valley, surrounded by lush green forests, gushing streams, and rolling hills.

The Gorkhey Valley trek is a popular trekking route among adventure enthusiasts and nature lovers. The trek starts from Manebhanjang and passes through various small villages, dense forests, and steep hills before finally reaching Gorkhey. The trek offers breathtaking views of the snow-capped Himalayan peaks, including Kanchenjunga, the third-highest peak in the world.

The valley is also home to a diverse range of flora and fauna, including various species of orchids, rhododendrons, and colorful birds like pheasants, minivets, and sunbirds. Visitors can also witness the lifestyle and culture of the local people, who are primarily Sherpas and Lepchas.

Overall, Gorkhey Valley is a beautiful and serene destination that offers a perfect blend of adventure, nature, and culture.
Enter the keywords that are relevant to the photos or videos that you will upload with this post.
User reviews
There are no user reviews for this listing.