Heat dried clay brick for building
Heat dried clay brick for building
ES
Emmanuel Sagini
Updated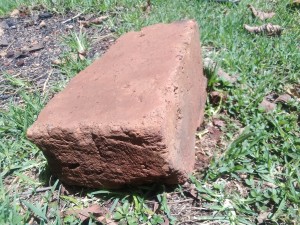 Enter the location of the object or where it is available (street, village, city, state or territory, country, etc..)
81, Kebirigo Mwamosongo, Nyamira Kenya
Explain more about the photos or videos like location, time and the specific camera settings you would have used to take these photos. Also, if you would have used any accessories or a smartphone app to take the media you are sharing, you can mention them here.
A brick is a sort of block used to construct masonry structures such as walls, pavements, and other features.

The term "brick" technically refers to a block made of dried clay, but it is now frequently used colloquially to refer to various construction blocks that have undergone chemical curing.

Bricks can be attached to one another by mortar, adhesives, or by interlocking. Bricks are typically made in large quantities at brick works and come in a variety of classes, types, materials, and sizes that vary by place and time period.
Enter the keywords that are relevant to the photos or videos that you will upload with this post.
User reviews
There are no user reviews for this listing.