Hohen Schwangau Palace
TM
Tannistha Mukherjee
Updated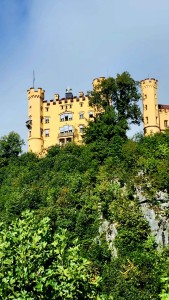 Explain more about the photos or videos like location, time and the specific camera settings you would have used to take these photos. Also, if you would have used any accessories or a smartphone app to take the media you are sharing, you can mention them here.
Schloss Hohenschwangau (castle of high "Swan County"), is a castle located in the Hohenschwangau hamlet of the municipality of Schwangau, near Füssen, in Bavaria, Germany. a medieval fortress, already mentioned in the 12th century; over the centuries, it changed owners several times until it was abandoned and ruined. During the sixteenth century, the ruins of the castle were purchased by the wealthy patrician family of the Paumgartner, originally from Nuremberg, who promoted a restoration of the entire structure and its extension in the Italian Renaissance style. In 1829 Maximilian II, Ludwig II's father rediscovered it, bought the property and had it restored; thanks to him, the manor was transformed into a palace becoming a place now very popular with tourists. Nearby, as the crow flies opposite, is the dynastically descending Neuschwanstein Castle.
Enter the keywords that are relevant to the photos or videos that you will upload with this post.
User reviews
There are no user reviews for this listing.