How can you Mark your Tweets as Sensitive on Twitter?
How can you Mark your Tweets as Sensitive on Twitter?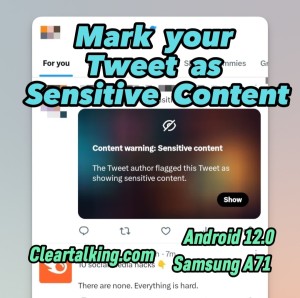 Enter the title for the tutorial
How can you Mark your Tweets as Sensitive on Twitter?
Enter the detailed description of the tutorial
All X accounts have media settings to help X understand the type of media you are posting. By appropriately marking your media settings, X can identify potentially sensitive content that other users may not wish to see, such as violence or nudity.


When you have this setting enabled, people who visit your profile may see a message letting them know your account may include potentially sensitive content and asking them to confirm they still want to view it. People who have opted in to see possibly sensitive content will still see your account without the message.


The option to add one-time sensitive content warnings to photos and videos you post is now available for everyone across Android, iOS, and web.


To add a content warning, tap or click on the flag icon when editing the photo or video after you've attached it to your post. This allows you to choose marking the photo or video as Nudity, Violence, or Sensitive. You can control your preferences for how and when you may see sensitive content in your media settings.


You will be able to change your media settings on your account settings page, though this image and any other images that have been labeled will remain marked as potentially sensitive.


Provide the complete url of the video starting with http.
User reviews
Accuracy of Information
5.0
If one of your posts containing media is reported as sensitive, it will be sent to X for review. If Twitter find that the media wasn't marked as being potentially sensitive at the time of the upload:


Twitter may label the media as being potentially sensitive, or in the case of live video, remove the content entirely.
Twitter may also change your account setting to Mark media you post as containing material that may be sensitive so that future posts are marked accordingly. You will see this action has been taken on your account with a label.