How can you save mobile data on Twitter?
How can you save mobile data on Twitter?
New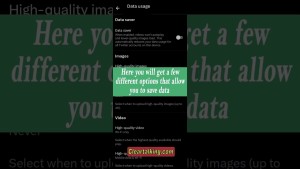 Enter the title for the tutorial
How can you save mobile data on Twitter?
Enter the detailed description of the tutorial
The Twitter Lite app is a data and storage friendly way to use Twitter on a smartphone. Key features of the Twitter Lite app are:
Loads quickly on 2G and 3G networks.
Minimizes data usage turn on data saver mode to download only the images or videos you want to see.
Takes up less space at an install size under 3MB, Twitter Lite doesn't take up much room on your phone.
Twitter Lite is designed to minimize the amount of data used while you use Twitter. You can reduce the amount of data used by Twitter by enabling data saver mode. Control what media you want downloaded in real time to help save data.


Tap your profile photo, to access the dash menu.
Tap the toggle next to Data saver to turn on.
In this mode, images will be presented as a preview, and large images will only be loaded when you request them. You can view images by tapping Load image in Twitter Lite.


Provide the complete url of the video starting with http.
User reviews
Accuracy of Information
5.0
Twitter Lite is available exclusively in the Google Play Store and is currently compatible with devices supporting Android versions 5.0 and above. If you cannot access the Google Play Store, you can use the mobile web version of Twitter on
mobile.twitter.com
.