Indira Gandhi Memorial Tulip Garden
Indira Gandhi Memorial Tulip Garden
TM
Tannistha Mukherjee
Updated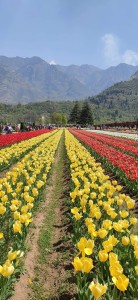 Explain more about the photos or videos like location, time and the specific camera settings you would have used to take these photos. Also, if you would have used any accessories or a smartphone app to take the media you are sharing, you can mention them here.
Indira Gandhi Memorial Tulip Garden is a popular tourist destination located in Srinagar, the capital city of Jammu and Kashmir in India. It is one of the largest tulip gardens in Asia and is named after the former Prime Minister of India, Indira Gandhi.

The garden is spread over an area of about 30 hectares and is located on the foothills of Zabarwan Range. The garden is adorned with over 1.5 million tulips of different colors and varieties that bloom in the spring season. The garden also offers breathtaking views of the Dal Lake and the surrounding mountains.

The garden was opened in 2007 with the aim of promoting tourism in the Kashmir valley. It is open to visitors from the end of March to the beginning of May, which is the peak blooming season for tulips. Apart from tulips, the garden also has other flowers such as hyacinths, daffodils, and ranunculus.

Visitors can also enjoy various activities such as horse riding, boating, and photography within the garden premises. The garden also has a food court that serves traditional Kashmiri cuisine and other snacks.

Overall, Indira Gandhi Memorial Tulip Garden is a must-visit destination for nature lovers and photography enthusiasts visiting Srinagar.
Enter the keywords that are relevant to the photos or videos that you will upload with this post.
User reviews
There are no user reviews for this listing.