iPhone 13 Pro App Store Settings
iPhone 13 Pro App Store Settings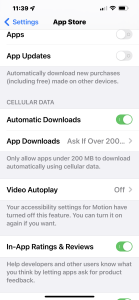 Explain more about the photos or videos like location, time and the specific camera settings you would have used to take these photos. Also, if you would have used any accessories or a smartphone app to take the media you are sharing, you can mention them here.
If you want to customize the preferences or restrict access to App Store, you can go to App Store in Settings to view the available options and customize.


These screenshots from iPhone 13 Pro Max show all the App Store Settings that are available on iPhone with iOS 15.5.


Go to Settings > App Store to apply restrictions and set the below options to meet your need.


Location: Tap this to set the permission level to allow location as Never, Ask Next Time or When I Share, or While Using the App. You can set the Precise Location on to let the app to user your specific location. If this is disabled, app will use only your approximate location.
Siri & Search: Tap this to set the specific Siri & Search settings for the App Store. These settings are available to turn or off - Learn from this App, Show App in Search, Show Content in Search, Show on Home Screen, Suggest App, and Suggestions Notifications.
Notifications: Tap this to set the notifications options for the App Store. You can turn on / off, or configure these settings - Allow Notifications, Time Sensitive Notifications to deliver immediately, Alerts display options, Alerts Banner Style, Alerts Sounds, Alerts Badges, Previews option on lock screen, Notification Grouping on lock screen, and App Store Notification Settings.
Language: Tap this to set the App Store Language preference.
Apps: Turn this on to automatically download the purchased apps on this or other devices.
App Update: Enable this to update the downloaded apps.
Automatic Downloads: Set this on to automatically download apps over cellular data.
App Downloads: With this you can restrict the size of app downloads over cellular data as Always Allow, Ask If Over 200 MB, or Always Ask.
Video Autoplay: Restrict the video autoplay from App Store by using the options - On, Wi-Fi Only or Off.
In-App Ratings & Reviews: Enable this to allow Apps asking for product feedback.
Offload Unused Apps: If this is enabled, unused apps will be removed automatically, but will retain the documents and data. When the app is reinstalled, it can be restored using the data.
App Store & Arcade Privacy: Tap this to access the privacy policy for the App Store and Arcade.
Personalized Recommendations: With the Personalized Recommendations, you can view your interactions with App Store on various aspects, or clear app usage data. You can remove your rating or review for an app.
Enter the keywords that are relevant to the photos or videos that you will upload with this post.
User reviews
There are no user reviews for this listing.