iPhone 13 Pro Max Battery Settings
iPhone 13 Pro Max Battery Settings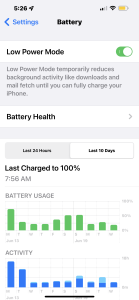 Explain more about the photos or videos like location, time and the specific camera settings you would have used to take these photos. Also, if you would have used any accessories or a smartphone app to take the media you are sharing, you can mention them here.
You can get the health and usage history of your battery on your iPhone.


These screenshots from iPhone 13 Pro Max show all the Battery Health Settings that are available on iPhone with iOS 15.5.


Go to Settings > Battery to get useful information about your battery and customize the other available settings.


Low Power Mode: Turn this on to reduce the power consumption on your iPhone when battery gets low. When Low Power Mode is active, it reduces few background activities like downloads, and brightness that helps to extend the battery longer.


Battery Health: Tap this to get information on your battery's current capacity, performance throttling to achieve peak performance, and the option to enable optimizing battery charge. Battery capacity drops as they age, which will result in reduced hours of usage between charges. The graphs show the battery level, battery usage, and the duration of screen on or off.


Battery Usage Trend: You can get the information about your battery usage broken down by hours for the last 24 hours or by days for the last 10 days. It also shows the last time when the battery was charged to 100%.


Battery Usage by App: You can view battery usage broken down by apps in the selected time interval, that will help to identify the high-power consuming apps.


Activity by App: Shows the duration spent on each app in the selected interval, that will help you to know where you spent most of your time.


Enter the keywords that are relevant to the photos or videos that you will upload with this post.
User reviews
There are no user reviews for this listing.