iPhone 13 Pro Max Emergency SOS Settings
iPhone 13 Pro Max Emergency SOS Settings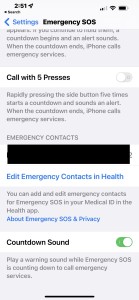 Explain more about the photos or videos like location, time and the specific camera settings you would have used to take these photos. Also, if you would have used any accessories or a smartphone app to take the media you are sharing, you can mention them here.
With the Emergency SOS settings on your iPhone, you can customize the emergency call options according to your need.


These screenshots from iPhone 13 Pro Max show all the Emergency SOS Settings that are available on iPhone with iOS 15.5.


Go to Settings > Emergency SOS to customize the available features on your iPhone.


Call with Hold: Enable this to open the Emergency SOS slider when you press and hold the side and volume buttons.
Call with 5 Presses: This is alternative option to trigger the emergency call using side button. Enable this to initiate an emergency call by pressing 5 times continuously.
Emergency Contacts: Your emergency contact displays here. Using the 'Edit Emergency Contacts in Health' option, you can update the emergency contacts.
Countdown Sound: Turn this on if you want to hear the sound when countdown starts after initiating an emergency call.
Enter the keywords that are relevant to the photos or videos that you will upload with this post.
User reviews
There are no user reviews for this listing.