iPhone 13 Pro Max Face ID & Passcode Settings
iPhone 13 Pro Max Face ID & Passcode Settings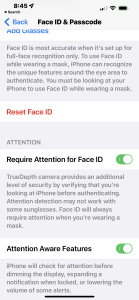 Explain more about the photos or videos like location, time and the specific camera settings you would have used to take these photos. Also, if you would have used any accessories or a smartphone app to take the media you are sharing, you can mention them here.
You can customize using Face ID for specific set of activities as per you need on your iPhone.


These screenshots from iPhone 13 Pro Max show all the Face ID & Passcode Settings that are available on iPhone with iOS 15.5.


Go to Settings > Face ID & Passcode to customize the available features on your iPhone.


Use Face ID for: You can enable or disable Face ID to use with these specific activities and access - iPhone Unlock, iTunes & App Store, Wallet & Apple Pay, Password AutoFill, or Face ID for specific apps access.
Set up an Alternate Appearance: If needed, you can use this feature to set up Face ID with Alternate Appearance.
Face ID with Mask: Enable this for your iPhone to recognize you with mask. This should be set up first while you add Face ID. You can also enhance the Face ID by wearing glasses using the 'Add Glasses' feature. Sunglasses are not supported with this option.
Reset Face ID: you can reset all the Face ID settings, if you want to reconfigure.
Require Attention for Face ID: If you enable this, TrueDepth camera on your iPhone adds enhanced security by confirming that you are looking at the iPhone screen to authenticate with Face ID.
Attention Aware Features: When this is on, iPhone will look for attention before performing certain actions with Face ID, such as dimming the display, lower the volume of alerts, or expand notifications when locked.
Turn Off Passcode - You can remove the passcode for your iPhone. Turing the passcode off will remove your Apply Pay cards for security purpose. This will also disable unlocking Apple Watch automatically.
Change Passcode: Tap this to change your iPhone password.
Unlock with Apple Watch: Turn on the Apple Watch option to unlock iPhone using Apple Watch.
Require Passcode: Default option is 'immediately' to enter passcode when the phone is locked. if you use Face ID or Apple Pay, this setting to need immediate passcode requirement can't be changed.
Voice Dial: If this is turned on, you can make calls with Siri voice command on your iPhone even when the phone is locked.
Allow Access when locked: Enable the below options as you need, if you want to access them when phone is locked.
- Today View and Search
- Notification Center
- Control Center
- Siri
- Reply With Message
- Home Control
- Wallet
- Return Missed Calls
- USB Accessories


Erase Data: Enable this if you want the data to be erased after 10 failed attempts with wrong passcode.
Enter the keywords that are relevant to the photos or videos that you will upload with this post.
User reviews
There are no user reviews for this listing.