iPhone 13 Pro Max Passwords Settings
iPhone 13 Pro Max Passwords Settings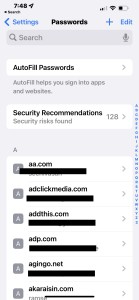 Explain more about the photos or videos like location, time and the specific camera settings you would have used to take these photos. Also, if you would have used any accessories or a smartphone app to take the media you are sharing, you can mention them here.
You can access and view the passwords stored on your iPhone. iPhone also can alert if any of your passwords appeared in known data leaks.


These screenshots from iPhone 13 Pro Max show all the Passwords Settings that are available on iPhone with iOS 15.5.


Go to Settings > Passwords to manage passwords for websites and change AutoFill Passwords option.


Autofill Passwords: Tap this to enable or disable AutoFill Passwords feature. Once you enable this, list of options to 'fill the password from' appear and you can select an option.
Security Recommendations: Tap this to enable the option 'Detect Compromised Password'. When this is turned on, iPhone monitors the stored passwords and alert if any of them would have appeared in known data leaks. All the websites with the password of high risk of compromise appear here, with an option to change on the website.
Manage Passwords for Websites: All the websites with the stored password listed here. You can tap a website to manage these options - view password, change password, add notes, set up verification code, or delete password.
Enter the keywords that are relevant to the photos or videos that you will upload with this post.
User reviews
There are no user reviews for this listing.