iPhone 13 Pro Max Voice Memos Settings
iPhone 13 Pro Max Voice Memos Settings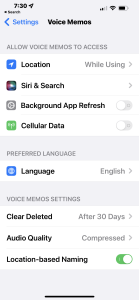 Explain more about the photos or videos like location, time and the specific camera settings you would have used to take these photos. Also, if you would have used any accessories or a smartphone app to take the media you are sharing, you can mention them here.
With the Voice Memos Settings on your iPhone, you can manage the Voice Memos app access to other services and customize the other available Voice Memos Settings.


These screenshots from iPhone 13 Pro Max show all the Voice Memos Settings that are available on iPhone with iOS 15.5.


Go to Settings > Voice Memos to configure the various Voice Memos access options and other functions.


Location: Tap this to set the permission level to allow location access to Voice Memos app as Never, Ask Next Time or When I Share, or While Using the App. You can set the "Precise Location" on to let the app to user your specific location. If this is disabled, app will use only your approximate location.
Siri & Search: Tap this to configure on how Siri will access Voice Memos app for learning, search, and suggestions. You can enable or disable the app and content to appear in search. You can also toggle the options on how suggestions and content from "Voice Memos" to appear.
Background App Refresh: Enable this for the app to refresh in the background, even while you are not using the app.
Cellular Data: Enable this for the app to refresh using cellular data.
Language: Select and set the default language for Reminders.
Clear Deleted: Select the duration of how long you want to keep the deleted Voice Memos recordings.
Audio Quality: Select the level of audio quality you want with Voice Memos.
Location-based naming: While this is turned on, recorded Voice Memos will be named based on the recording location.
Enter the keywords that are relevant to the photos or videos that you will upload with this post.
User reviews
There are no user reviews for this listing.