iPhone 13 Pro Wallet & Apple Pay Settings
iPhone 13 Pro Wallet & Apple Pay Settings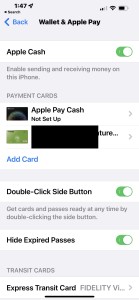 Explain more about the photos or videos like location, time and the specific camera settings you would have used to take these photos. Also, if you would have used any accessories or a smartphone app to take the media you are sharing, you can mention them here.
With Wallet & Apple Pay settings on your iPhone, you can configure the payment options and other wallet usage functions.


These screenshots from iPhone 13 Pro Max show all the Wallet & Apple Pay Settings that are available on iPhone with iOS 15.5.


Go to Settings > Wallet & Apple Pay to manage payment settings and add or remove cards.


Apple Cash: Enabling Apple Cash will allow sending or receiving money using your iPhone.
Payment Cards: Add, remove, or update payment cards. Tap an existing card to update or add info and view transaction history. You can turn on Express Transit for a specific card.
Double-Click Side Button: Enabling this will allow to initiate the payment by double-clicking the side button.
Hide Expired Passes: Turn this on to hide all expired passes on your wallet, so it's easy to manage.
Express Transit Cards: Tap this to set an express transit card. Once you add a card for express transit, it can be used without requiring authentication with your Face ID or password to pay for transit.
Default Card: Tap this to set a default payment card.
Shipping Address: Tap this to set a shipping address or enter a new shipping address.
Email: Tap this to set an email or enter a new email. You can also pick an existing contact.
Phone: Tap this to set a phone number or enter a new phone number. You can also pick an existing contact.
Allow Payments on Mac: When this option is turned on, you can use Appy Pay on you iPhone to confirm the payments on Mac that is nearby.
Enter the keywords that are relevant to the photos or videos that you will upload with this post.
User reviews
There are no user reviews for this listing.