Itmad Ud Daulah
TM
Tannistha Mukherjee
Updated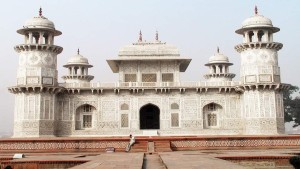 Explain more about the photos or videos like location, time and the specific camera settings you would have used to take these photos. Also, if you would have used any accessories or a smartphone app to take the media you are sharing, you can mention them here.
Itmad-ud-Daulah, also known as Mirza Ghiyas Beg, was a Persian nobleman and the father-in-law of Mughal Emperor Jahangir. He served as a minister in the Mughal court during the reign of Emperor Akbar and Jahangir.

Itmad-ud-Daulah is famous for his tomb, which is located in Agra, India. The tomb was commissioned by his daughter Nur Jahan, who was Jahangir's wife, and was completed in 1628. The tomb is often referred to as the "Baby Taj" because it is said to have served as inspiration for the design of the Taj Mahal, which was commissioned by Emperor Shah Jahan in memory of his wife Mumtaz Mahal.

The tomb of Itmad-ud-Daulah is known for its intricate marble inlay work, which includes a variety of precious and semi-precious stones such as lapis lazuli, onyx, and jasper. The tomb is surrounded by a beautiful garden and features a central tomb chamber, which houses the tombs of Itmad-ud-Daulah and his wife.
Enter the keywords that are relevant to the photos or videos that you will upload with this post.
User reviews
There are no user reviews for this listing.