Karnaprayag
TM
Tannistha Mukherjee
Updated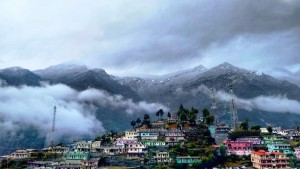 Explain more about the photos or videos like location, time and the specific camera settings you would have used to take these photos. Also, if you would have used any accessories or a smartphone app to take the media you are sharing, you can mention them here.
Karnaprayag is a town located in the Chamoli district of Uttarakhand state in northern India. It is situated at the confluence of the Alaknanda and Pindar rivers and is one of the five confluences or prayags of the Alaknanda River. The town is named after the Karna, a character from the Hindu epic Mahabharata, who is said to have worshipped Lord Surya (the Sun God) at this place.

Karnaprayag is located at an altitude of around 1450 meters above sea level and is surrounded by snow-capped mountains, making it a popular destination for trekking and mountaineering enthusiasts. The town is also known for its ancient temples, including the Karna Temple dedicated to Lord Surya and the Uma Devi Temple dedicated to the goddess Uma.

Some other nearby tourist attractions include the Nanda Devi National Park, which is a UNESCO World Heritage Site and home to a variety of flora and fauna, and the Auli ski resort, which is known for its beautiful slopes and scenic views. The town can be reached by road from nearby cities like Rishikesh, Haridwar, and Dehradun.
Enter the keywords that are relevant to the photos or videos that you will upload with this post.
User reviews
There are no user reviews for this listing.