Learn how to mute words on "X" (Twitter)
Learn how to mute words on "X" (Twitter)
New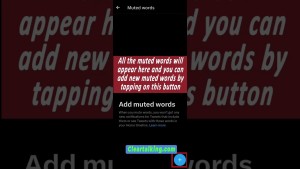 Enter the title for the tutorial
Learn how to mute words on "X" (Twitter)
Enter the detailed description of the tutorial
Twitter's mute feature is the perfect way to remove unwanted tweets from your timeline. Twitter is a great avenue to follow celebrities, interact with people worldwide and consume content of virtually any kind. But at times, tweets go too far. You may find a movie spoiler or tweet containing sensitive content. While a spoiler isn't the end of the world, a trigger-heavy tweet might negatively affect your mental health.


Thanks to the mute feature, you can filter your feed and reduce any unwelcome words and phrases from appearing on your timeline.


Twitter's mute functionality protects you from sensitive issues that may trigger a reaction and spoil your day. Whether emotional, social, or political, muting sensitive terms is a great way to preserve peace of mind and enjoy the app without worrying about something upsetting coming your way.


Muting ensures inappropriate or mature content doesn't appear on the feed. This is especially useful for account holders with children.


Provide the complete url of the video starting with http.
User reviews
Accuracy of Information
5.0
The ultimate objective on any social media platform is to create an experience that provides value and encourages you to return to the site or app. Muting helps curate a feed customized to your tastes and preferences, moving you closer to this goal. Whether it's muting annoying trends, sensitive topics, or movie spoilers, muting optimizes your timeline.