Machi Bhawan
TM
Tannistha Mukherjee
Updated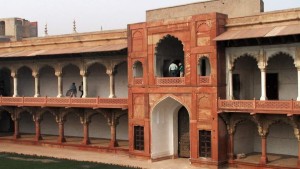 Explain more about the photos or videos like location, time and the specific camera settings you would have used to take these photos. Also, if you would have used any accessories or a smartphone app to take the media you are sharing, you can mention them here.
Machi Bhawan is a historic building located within the Agra Fort complex in Agra, India. It is a two-storeyed palace that was built during the reign of Emperor Shah Jahan in the 17th century. The palace is situated on the eastern side of the fort, and it offers breathtaking views of the Taj Mahal from its balconies.

Machi Bhawan was originally built as a private residence for the emperor's family members and close associates. The palace is known for its exquisite architecture, which is a blend of Mughal and Rajput styles. It features intricate carvings, beautiful jali work, and stunning floral designs that are typical of Mughal architecture.

Today, Machi Bhawan is a popular tourist attraction and is open to the public. Visitors can explore the palace and its various rooms, which include the Diwan-i-Am, Diwan-i-Khas, and the Khas Mahal. The palace also houses a museum that showcases various artifacts and exhibits related to the Mughal era.

Overall, Machi Bhawan is a must-visit destination for anyone interested in Mughal architecture and history. Its stunning design and rich history make it a true gem of Agra Fort and an important part of India's cultural heritage.
Enter the keywords that are relevant to the photos or videos that you will upload with this post.
User reviews
There are no user reviews for this listing.