Marienplatz
TM
Tannistha Mukherjee
Updated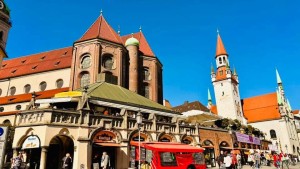 Explain more about the photos or videos like location, time and the specific camera settings you would have used to take these photos. Also, if you would have used any accessories or a smartphone app to take the media you are sharing, you can mention them here.
Marienplatz is a central square in Munich, Germany. It's known for its historic architecture, including the New Town Hall (Neues Rathaus) with its famous Glockenspiel. The square is a popular hub for tourists and locals alike, offering shopping, dining, and cultural attractions.
Enter the keywords that are relevant to the photos or videos that you will upload with this post.
User reviews
There are no user reviews for this listing.