Meherangar Fort and Museum
Meherangar Fort and Museum
TM
Tannistha Mukherjee
Updated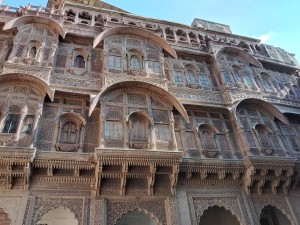 Explain more about the photos or videos like location, time and the specific camera settings you would have used to take these photos. Also, if you would have used any accessories or a smartphone app to take the media you are sharing, you can mention them here.
Mehrangarh Fort is a magnificent fortress located in Jodhpur, Rajasthan, India. It is one of the largest forts in India and was built by Rao Jodha in 1459 when he founded the city of Jodhpur.



The fort is situated on a 125-meter-high hill and is surrounded by thick walls. It has seven gates, which were built to commemorate the victories of the Rajput rulers over their enemies. The fort complex includes several palaces, courtyards, and temples.



One of the most notable features of the fort is its intricate architecture, which includes beautiful carvings, intricate latticework, and ornate panels. The fort also houses a museum that displays a rich collection of artifacts, including royal palanquins, paintings, arms, and armor.



Visitors to Mehrangarh Fort can explore its many attractions, including the Chamunda Mataji Temple, the Sheesh Mahal, the Moti Mahal, and the Phool Mahal. The fort also offers spectacular views of the surrounding city and the Thar Desert.



Mehrangarh Fort is a popular tourist destination and has been featured in several movies, including the Hollywood film The Dark Knight Rises. It is a must-visit attraction for anyone interested in history, architecture, and the rich cultural heritage of India.
Enter the keywords that are relevant to the photos or videos that you will upload with this post.
User reviews
There are no user reviews for this listing.