Mindrolling Monastery
TM
Tannistha Mukherjee
Updated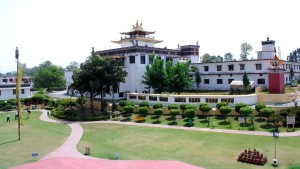 Explain more about the photos or videos like location, time and the specific camera settings you would have used to take these photos. Also, if you would have used any accessories or a smartphone app to take the media you are sharing, you can mention them here.
Today we are taking you to Mindrolling Monastery, also known as the Buddha Temple Complex, was established in Clement Town, Dehradun, Uttarakhand by Khochhen Rinpoche in 1965. Situated in the middle of the serene foothills of the Himalayas, the Mindrolling Monastery is one of the largest Buddhist centres in India which attracts thousands of visitors from all over the country as well as abroad.
Being an architectural masterpiece with several sections, the monastery is a visual wonder. While surrounded by greenery, it also has numerous shrine rooms, Tibetan art forms, and murals. What catches the attention of every tourist is the presence of the tall statue of Lord Buddha.
Enter the keywords that are relevant to the photos or videos that you will upload with this post.
User reviews
There are no user reviews for this listing.