Murudeshwar Mandir
TM
Tannistha Mukherjee
Updated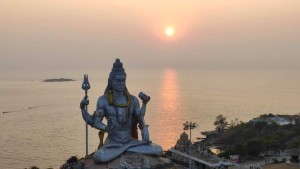 Explain more about the photos or videos like location, time and the specific camera settings you would have used to take these photos. Also, if you would have used any accessories or a smartphone app to take the media you are sharing, you can mention them here.
Murudeshwar Mandir is a Hindu temple located in the coastal town of Murudeshwar in the state of Karnataka, India. The temple is dedicated to Lord Shiva, and it is one of the most popular pilgrimage destinations in South India.



The main attraction of the temple is a towering statue of Lord Shiva, which stands at a height of 123 feet (37 meters). This statue is the second-largest statue of Lord Shiva in the world, and it is surrounded by a beautiful park with fountains and other attractions.



Apart from the statue of Lord Shiva, the temple also has several other shrines dedicated to different deities, including Lord Ganesh, Lord Subramanya, and Goddess Parvati. The temple complex also includes a large pond called the Koti Teertha, which is considered a sacred spot for taking a dip in the holy waters.



Murudeshwar Mandir is located on the Arabian Sea coast, and it offers stunning views of the sea and the surrounding landscape. The temple attracts a large number of visitors every year, especially during the festival of Maha Shivaratri, when thousands of devotees come to offer prayers and seek blessings from Lord Shiva.
Enter the keywords that are relevant to the photos or videos that you will upload with this post.
User reviews
There are no user reviews for this listing.