Pisa Cathedral
TM
Tannistha Mukherjee
Updated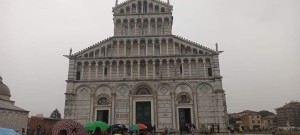 Explain more about the photos or videos like location, time and the specific camera settings you would have used to take these photos. Also, if you would have used any accessories or a smartphone app to take the media you are sharing, you can mention them here.
PIAZZA DEI MIRACOLI
UNESCO World Heritage Site 1987

Considered sacred by the Catholic Church, its owner, the square is dominated by four great religious edifices: the Pisa Cathedral, the Pisa Baptistery, the Campanile, and the Camposanto Monumentale (Monumental Cemetery).

PISA CATHEDRAL (Italian: Cattedrale Primaziale di Santa Maria Assunta; Duomo di Pisa) is a medieval Roman Catholic cathedral dedicated to the Assumption of the Virgin Mary, in the Piazza dei Miracoli in Pisa, Italy, the oldest of the three structures in the plaza followed by the PISA BAPTISTRY and the CAMPANILE known as the Leaning Tower of Pisa. The cathedral is a notable example of Romanesque architecture, in particular the style known as Pisan Romanesque. The CAMPO SANTO, also known as Camposanto Monumentale ("monumental cemetery") or Camposanto Vecchio ("old cemetery"), is a historical edifice at the northern edge of the Cathedral Square
Enter the keywords that are relevant to the photos or videos that you will upload with this post.
User reviews
There are no user reviews for this listing.