Rose flower of the Rosa genus
Rose flower of the Rosa genus
ES
Emmanuel Sagini
Updated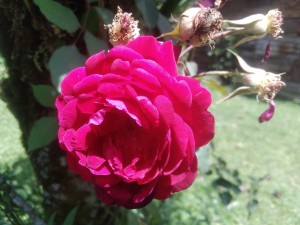 Explain more about the photos or videos like location, time and the specific camera settings you would have used to take these photos. Also, if you would have used any accessories or a smartphone app to take the media you are sharing, you can mention them here.
A rose is either the flower it produces or a woody perennial blooming plant of the genus Rosa in the family Rosaceae. There are tens of thousands of cultivars and more than 300 species.

They form a category of plants with stems that are frequently covered in tiny prickles, and they can be erect shrubs, climbing, or trailing. Their flowers range in size and form, are typically enormous and beautiful, and come in a variety of colors, including white, yellow, and red.

Smaller numbers of species are native to Europe, North America, and northwest Africa, but the majority are from Asia.
Enter the keywords that are relevant to the photos or videos that you will upload with this post.
User reviews
There are no user reviews for this listing.