Seesh Mahal
TM
Tannistha Mukherjee
Updated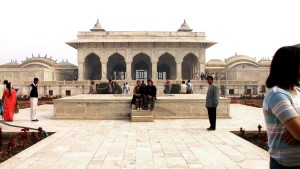 Explain more about the photos or videos like location, time and the specific camera settings you would have used to take these photos. Also, if you would have used any accessories or a smartphone app to take the media you are sharing, you can mention them here.
The Seesh Mahal, also known as the Mirror Palace, is a beautiful palace located inside the Agra Fort complex in Agra, India. The palace was built during the reign of Emperor Shah Jahan in the 17th century and was used as a private chamber for the emperor.

The Seesh Mahal gets its name from the intricate mirror work that covers its walls and ceilings. The palace is decorated with beautiful floral designs and intricate carvings. The mirrors were strategically placed to reflect the light and create a dazzling effect that gives the palace its name.

Visitors to the Seesh Mahal can admire the beautiful architecture and intricate mirror work, which is considered to be one of the finest examples of Mughal art in India. The palace is also known for its beautiful views of the surrounding gardens and the Taj Mahal.

Overall, the Seesh Mahal is a must-see attraction for anyone visiting Agra Fort or the Taj Mahal. It is a stunning example of Mughal architecture and a testament to the beauty and grandeur of India's rich cultural heritage.
Enter the keywords that are relevant to the photos or videos that you will upload with this post.
User reviews
There are no user reviews for this listing.