Shankaracharya Samadhi of Kedarnath
Shankaracharya Samadhi of Kedarnath
TM
Tannistha Mukherjee
Updated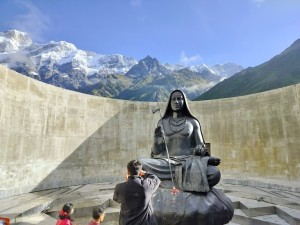 Explain more about the photos or videos like location, time and the specific camera settings you would have used to take these photos. Also, if you would have used any accessories or a smartphone app to take the media you are sharing, you can mention them here.
Adi Shankaracharya revived Kedarnath along with other temples of Uttarakhand in the 8th century. He gave up his mortal coil through Mahasamadhi at Kedarnath. His samadhi temple was built behind the Kedarnath temple.

The Kedarnath temple is dedicated to the Hindu God Shiva. Adi Shankaracharye visited Kedanath at the age of 32 and attained Moksha. Hence this place is called Shankarcharya Samadhi Place. This Memorial was built just behind the temple and shows His Travelling Stick in one hand. Shankarcharya Samadhi Sthal is slightly away from the temple.
Enter the keywords that are relevant to the photos or videos that you will upload with this post.
User reviews
There are no user reviews for this listing.