Sonmarg- The Beauty of Kashmir
Sonmarg- The Beauty of Kashmir
TM
Tannistha Mukherjee
Updated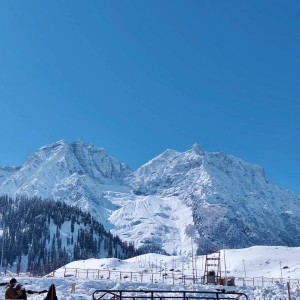 Explain more about the photos or videos like location, time and the specific camera settings you would have used to take these photos. Also, if you would have used any accessories or a smartphone app to take the media you are sharing, you can mention them here.
Sonmarg is a beautiful hill station located in the Ganderbal district of Jammu and Kashmir, India. It is situated at an altitude of around 2800 meters above sea level and is known for its picturesque landscapes, snow-capped mountains, and stunning glaciers. The name Sonmarg translates to "Meadow of Gold," and it is said that the golden hue of the surrounding meadows and mountains is what inspired the name.

Sonmarg is a popular tourist destination and attracts visitors from all over the world. Some of the popular tourist attractions in Sonmarg include the Thajiwas Glacier, Zojila Pass, Baltal Valley, and Gangbal Lake. The Thajiwas Glacier is a popular trekking destination and is located around 3 kilometers from Sonmarg. It is a beautiful sight to behold, with its crystal-clear waterfalls and the snow-covered peaks of the Himalayas in the background.

Sonmarg is also a popular starting point for the Amarnath Yatra, which is a Hindu pilgrimage to the Amarnath cave, where an ice lingam is formed every year due to freezing of water droplets. The yatra is usually held between June and August, and Sonmarg serves as the base camp for the trek to the Amarnath cave.

Overall, Sonmarg is a stunning destination that offers visitors a chance to experience the natural beauty of the Himalayas and the rich culture of Jammu and Kashmir.
Enter the keywords that are relevant to the photos or videos that you will upload with this post.
User reviews
There are no user reviews for this listing.