Suntalekhola River Camp
TM
Tannistha Mukherjee
Updated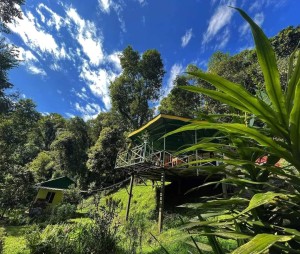 Explain more about the photos or videos like location, time and the specific camera settings you would have used to take these photos. Also, if you would have used any accessories or a smartphone app to take the media you are sharing, you can mention them here.
Suntalekhola River Camp is a popular tourist destination located in the Darjeeling district of West Bengal, India. It is a beautiful camping site situated on the banks of the Suntalekhola River, amidst lush green forests and hills. The river camp offers a serene and peaceful environment, away from the hustle and bustle of city life.

The Suntalekhola River Camp is a perfect place for nature lovers and adventure enthusiasts. One can indulge in activities like trekking, hiking, bird watching, and camping. The river is also a great spot for fishing, and one can catch a variety of fish here.

The campsite offers comfortable accommodation in the form of tents and cottages. The tents are spacious and come with all the necessary amenities like comfortable beds, clean linens, and attached bathrooms. The cottages are also well-equipped and offer a more luxurious stay.

Apart from adventure activities, the Suntalekhola River Camp also offers a chance to explore the nearby tourist attractions. Some of the popular places to visit include the Neora Valley National Park, the Chapramari Wildlife Sanctuary, and the Lava Monastery.

Overall, the Suntalekhola River Camp is a great place to relax and unwind amidst nature. It is a perfect getaway for those looking for a peaceful and rejuvenating vacation.
Enter the keywords that are relevant to the photos or videos that you will upload with this post.
User reviews
There are no user reviews for this listing.