Tradescantia fluminensis spiderwort in Kebirigo, Kenya
Tradescantia fluminensis spiderwort in Kebirigo, Kenya
ES
Emmanuel Sagini
Updated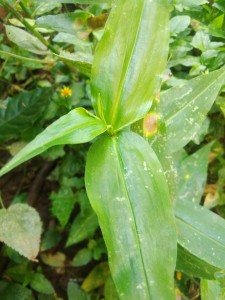 Explain more about the photos or videos like location, time and the specific camera settings you would have used to take these photos. Also, if you would have used any accessories or a smartphone app to take the media you are sharing, you can mention them here.
A perennial ground cover called Tradescantia fluminensis spreads along the ground with soft, hairless stems and leaves. Any node on the surface can serve as a rhizome for the fleshy stalks. The plant has oval, dark-green leaves with pointy tips that are 1.25 to 2.5 inches (32 to 64 mm) long, glossy, smooth, and slightly meaty.
On a 1.5 cm long stem, the terminal white blooms are present, occasionally in opposition to a leaf. The flowers are around 0.5-1 inch (13-25 mm) in diameter and have three petals. The sepals have a diameter of 5-7 mm.

Size-wise, the three white petals measure 8 to 9 mm. Anthers are dissociated. The flowers, which can contain many seeds, are produced in July in tiny clusters.
Enter the keywords that are relevant to the photos or videos that you will upload with this post.
User reviews
There are no user reviews for this listing.