Triyuginarayan- Temple of Lord Vishnu
Triyuginarayan- Temple of Lord Vishnu
TM
Tannistha Mukherjee
Updated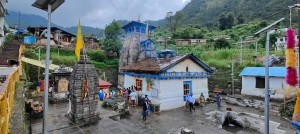 Explain more about the photos or videos like location, time and the specific camera settings you would have used to take these photos. Also, if you would have used any accessories or a smartphone app to take the media you are sharing, you can mention them here.
Triyuginarayan Temple, 11 kms from Gaurikund, is an ancient Hindu temple, dedicated to Lord Vishnu, who is said to have been a witness to the wedding of Lord Shiva to Goddess Parvati. A perpetually burning flame in front of the temple is attributed to the times of the divine marriage. The exact location of the wedding is marked by a stone called Brahma Shila, in front of the temple.
Enter the keywords that are relevant to the photos or videos that you will upload with this post.
User reviews
There are no user reviews for this listing.