Tungnath Temple
TM
Tannistha Mukherjee
Updated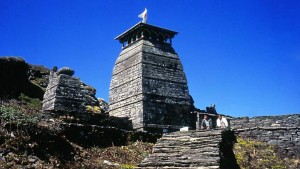 Explain more about the photos or videos like location, time and the specific camera settings you would have used to take these photos. Also, if you would have used any accessories or a smartphone app to take the media you are sharing, you can mention them here.
Tungnath is one of the highest Shiva temples in the world and is the highest of the five Panch Kedar temples located in the Rudraprayag district, in the Indian state of Uttarakhand. The Tungnath mountains form the Mandakini and Alaknanda River valleys. It is located at an altitude of 12,073 ft, and just below the peak of Chandrashila. and is the second in the pecking order of the Panch Kedars. It has a rich legend linked to the Pandavas, heroes of the Mahabharata epic. Legend also states that Rama, the central character of Ramayana, meditated at the Chandrashila peak which is close to Tungnath, in India. It is also said that Ravana performed penance to Shiva, the lord of the peaks, when he resided here.


Enter the keywords that are relevant to the photos or videos that you will upload with this post.
User reviews
There are no user reviews for this listing.