Ukhimath- Omkareshwar Temple
Ukhimath- Omkareshwar Temple
TM
Tannistha Mukherjee
Updated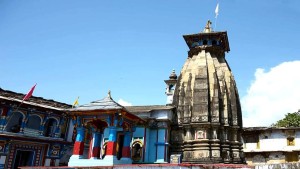 Explain more about the photos or videos like location, time and the specific camera settings you would have used to take these photos. Also, if you would have used any accessories or a smartphone app to take the media you are sharing, you can mention them here.
Ukhimath is a small town and a Hindu pilgrimage site in Rudraprayag district, Uttarakhand in India. It is situated at an elevation of 1,311 meters and at 41 km from Rudraprayag. During the winter, the Kedarnath and Madhyamaheshwar Temples are closed due to heavy snowfall in the area. As a result, the Utsava Idols of Kedarnath and Madhyamaheshwar are brought from Kedarnath and Madhyamaheshwar to the Omkareshwar Temple in Ukhimath. The winter puja of Kedarnath and Omkareshwar (the presiding deity of Ukhimath) is performed here. The Omkareshwar Temple is located at Ukhimath, which is at 41 km from Rudraprayag. According to Hindu Mythology, the wedding of Usha (Daughter of Banasura) and Aniruddha (Grandson of Lord Krishna) was solemnized here. By name of Usha this place was named as Ushamath, now known as Ukhimath. King Mandhata had performed severe penances to Lord Shiva here.
Enter the keywords that are relevant to the photos or videos that you will upload with this post.
User reviews
There are no user reviews for this listing.