Telecom Services
Zong Monthly Package 75GB (Free Nights 1AM – 9AM Up to 100GB) at Karachi, Sindh, Pakistan
Zong Monthly Package 75GB (Free Nights 1AM – 9AM Up to 100GB) at Karachi, Sindh, Pakistan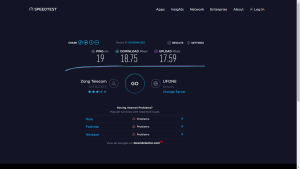 Map
User reviews
1

reviews

Service Recommendation

4.0 (1)
Service Recommendation
4.0
Currently zong service is one of the best internet services in Pakistan but comparing with the developed countries it lacks behind too much as it still needs development it their network, quality etc.
Need to improve their online customer service.
it's packages/plans are costly so not everyone can afford it.
My Zong App on Android is also a good step taken by them to improve their services.
Overall a good service for Pakistanis.