How to activate the Smart Developer mode in your android oreo smartphone
How to activate the Smart Developer mode in your android oreo smartphone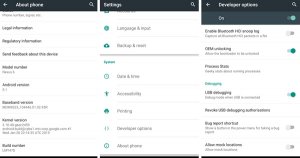 How to activate the Smart Developer mode in your android oreo smartphone
Enter the complete details of the tip you want to share.
The Smart developer options is one of the latest feature found in the android Oreo versions. This unique feature allows you to monitor the system behaviours thereby helping you to optimize the performance of your apps. Just follow these simple steps to activate the developer mode:-

1) Tap on the quick settings developer tiles so as to add the required developer options to your quick settings panel.
2)Now select the tiles according to your requirement and click on the edit mode in the quick settings panel.
3)Now drag the developer tiles to the quick settings panel and tap again to exit the edit mode.

That's it, now you will be able to change the notification icons for smoother actions and edit them to add to the quick developer options accordingly.



---
This tip is relevant to:
Mobile OS
|
Android 8.0 Oreo
Huawei p9 lite
| . If this tip is related to a smart device, then it could be applicable to other similar devices and mobile OS as well.
If you would have used this tip please enter your comments using the comments button below. You can also
Share a Telecom related Tip or Trick
that you know.
User comments
There are no user comments for this listing.